Tissue boxes are present all the time in offices, clinics, restaurants and in your homes. You can compromise on the packaging and storage of things that are requisite for regular use. So, What you need to do is to make the best packaging for your tissues so that they do not get wet easily and they are perfect to access when required. Tissue rolls and tissue papers folded inboxes are both important and have specific packaging. Here you will get to know some of the designs that are alluring and attractive at the same time.
Customization of Custom Tissue boxes for Free:
You cannot deny the fact that today's most important issue that everyone is facing is the lack of spare time. We, being a customer even don't have time to listen or think why some brands get more clientele than the others. But being an entrepreneur, we must analyze the packaging design that is going to be used for our product. It is the packaging that lets your customers decide whether to purchase the product or not. Well-Designed packaging is what makes the first great impression and helps in bringing your customers back to the product.
A crumpled tissue box designed
An innovative pocket tissue box
To make the product packaging noticeable, specifically, when it comes to tissue boxes, a packaging designer should understand that the potential client only takes fewer seconds to scan the product(s) and then select the right product. So the box packaging must be designed in a way that can make you distinguishable between different brands in the same niche. Though a tissue would remain a tissue despite its packaging, yet appealing custom boxes to make them more attractive for the clients.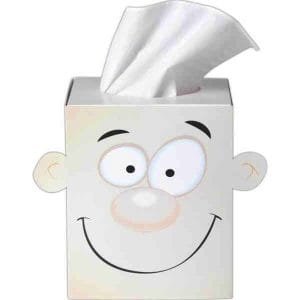 A custom tissue box for developing new markets
A tissue hippie bus by Busschmiede
For branded packaging, tissue packaging boxes can be designed in various shapes and sizes, ranging from non-standard to unique artwork. Depending upon the industry, custom tissue boxes can be crafted to make a better representation of each business. Here we are showing you ways of restyling and redesigning the standard tissue boxes into a unique one.