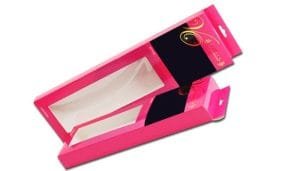 To whatever product you are selling, today's market is a highly competitive market. In the current marketplace, having high-quality products is only half of the battle that you have to fight with in order to increase sales. If your particular product doesn't have an attractive shelf appearance or it does not stand out on the shelf among hundreds of other branded products, then your product wouldn't be successful in the market. To get enhanced results from marketing, there is a need to craft unique and appealing designs for your packaging specifically when it comes to the packaging boxes for hair extensions. The material used for hair extension packaging should be finest, sturdy and cost-effective, both for the business and the end consumer.
The Significance of Design in Custom Hair Extension Packaging
The packaging design is not limited to a bright and unique creation. Besides unique and appealing designs, the artwork on the packaging must be easily identifiable from a distance even without reading the label. The use of exceptional color combinations and letterings on the design can also help your potential customers to identify your product. For instance, consider the Cadbury's bar. The use of purple background with golden and white lettering on the bar would help your customers to recognize it from across the store even without reading a label. Likewise, if you are a startup or small business, you need to craft custom hair extension packaging that is easily distinguishable. With unique packaging, you can help your customers in identifying your product from numerous other competitive products while walking down an aisle.
How Our Customized Packaging Can Help You
For customized packaging, initially, you need to review your product and identify the packaging requirements for it. Our custom boxes can help you to enhance your productivity and increase your return on investment. With your customized packaging, we can guide you in the right direction. By ordering us, you can get:
• Packaging with the finest material to keep your products safe and in original condition.
• The packaging boxes will be highly cost-effective.
• Packaging design would be created by focusing on your business and targeted clients.
• A complete process of selecting appropriate packaging would be guided for your products.
• A prominent increase in ROI results from our customized packaging solutions.
TheCustomPackagingBoxes has extensive industrial experience and expertise in designing custom hair packaging boxes. We know what packaging and material would be suitable to which product and where to find the best manufacturers at affordable prices.